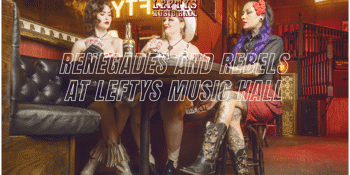 Renegades and Rebels at Leftys Music Hall
Lefty's Music Hall (Brisbane, QLD)
Sunday, 18 September 2022 12:00 pm
Howdy partner
j
Join the Lefty's crew and boss host Bettie Butcher, for the very first Renegades and Rebels Pageant, proudly presented by Jameson and Pinups of Australia!
Bringing out their Sunday's best of saloon styles and wild west wonders, this boot scooting pageant is sure to surprise and entertain with a showcase of wild westerneque fashions.
Judged by Brisbane Tattoo Expo winner – Sin Salute and two special guest judges to be announced.
Entries close Wednesday 31 August so don't delay – ENTER TODAY
https://www.surveymonkey.com/r/MJCR25X
Bands Martini Mayhem & Palomino III will be playing throughout the afternoon.