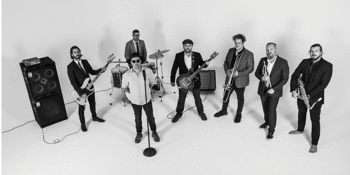 HEAVY WAX w/ The Steele Syndicate & Hazel Mei
Lefty's Music Hall (Brisbane, QLD)
Thursday, 28 October 2021 7:30 PM
8-piece Roots group HEAVY WAX come hot off the pan ready to serve up their high-energy Rock-Soul-Funk-Reggae mash. For those in search of hi-fidelity music with feeling, solid beats and that extra punch only a horn section can deliver, these guys could just be your new favourite band.

HEAVY WAX have a discernible raw sound emerging, underpinned by a gritty rhythm section and brazen 3-piece horn section which accentuates singer Quin Samin's soulful melodies. Referencing eclectic mixtape compilations they draw upon Soul, Reggae, 70's Funk and Fusion - any inspiration from the 'pre-digital' era. Like a kid rummaging through their parents' crate of old vinyl and stumbling upon an analogue gem, these guys are striving for sounds that evoke emotion which can only be achieved by way of authentic musicianship on acoustic instruments.

Celebrating their recent release of "Take Life Easy", they remain hard at work writing and curating some interesting directions for their first full length release. HEAVY WAX should be on all music lover's radars in 2021 and beyond!

The Steele Syndicate is all about the groove. Steele McMahon's Brisbane-based octet is raucous, punchy and fun, with a genre-bending sound that reimagines elements of old school funk, reggae, ska and indie rock. The band packs a roaring four-piece horn section and a rhythm section to match, creating music from soulful, contemplative ballads to dance-inducing funk frenzies.

Good friends along for the party is Brisbane's own Hazel Mei.

If you haven't already heard of Hazel Mei, you should probably be feeling like a bit of a fool... from the creative boom that has been happening in Brisbane lately, comes a singer-songwriter with the class and ability of industry royalty. -- Happy Mag

Definitely a night not to be missed!