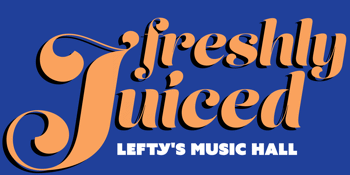 Freshly Juiced w/ Staples, Rich Uncle & The Spare Tyres
Lefty's Music Hall (Brisbane, QLD)
Thursday, 29 April 2021 7:30 PM
Delivered Monthly, we bring you Freshly Juiced. A lineup of the freshest, and tastiest artists Brisbane has to offer. Come get your dose of Vitamin C.
Aprils Lineup:
Staples
Drawing influences from post-punk and Britpop, Staples present their unique sound through a modern indie lens, combining passionate vocals with soaring guitar leads and jangly chords, and ambient synths with driving basslines and punchy drums.
With the recent release of their debut EP 'Another Melodramatic Mess', following the singles 'Sulking (On a Sunny Day)' and 'Serotonin', Staples have established themselves as an up-and-coming band to look out for in the coming months, with big plans for the future.

Rich Uncle

Rich Uncle is a 4-piece alternative rock band, formed in the fires of Mordor (A.K.A Brisbane). You would not imagine the amount of scumbags that LOVE their taste. Think pizza - everyone gets a piece and everyone has fun. Roll it up, smoke it.
The Spare Tyres
Comprised of 4 young larrikins from Brisbane's northern suburbs.
Jimmy, Wesley, Harro & Muzz were all great mates before deciding to play together, with this chemistry evident in their live performance. Described as 'the juxtaposition of Indie Rock and Aussie Pub Rock', The Spare Tyres provide a hard-hitting fusion of these genres. Memorable hooks, driving grooves & emotive delivery. Formed over beers, & refining their craft in a shed, The Spare Tyres pride themselves on men, who just happen to love playing music together, & playing it loudly.