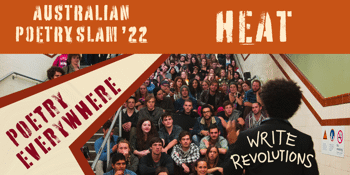 AUSTRALIAN POETRY SLAM - RUCKUS BRISBANE HEAT!
Lefty's Music Hall (Brisbane, QLD)
Wednesday, 31 August 2022 6:30 PM
AUSTRALIAN POETRY SLAM - RUCKUS BRISBANE HEAT!


Concrete paths, riverside walks, libraries, classrooms, your doorstep, your palm… when venues closed, we found poetry everywhere.
This is your call to listen, watch and cheer. Australian Poetry Slam pops up stages near you. The door is open. The mic is on. Push into the crowd and find your spot. From July to October, APS heats and workshops connect storytellers across the nation, leading to the National Final as part of Story Week 2022.
Audience! You may be chosen as a judge. Poets! You have TWO minutes to spit, howl, dance, whisper and dream out-loud.
Perform your original work; no props, no costumes, no music. The TWO highest-scoring poets will represent Brisbane in the QLD Final!
Tix $20 presale. Get in quick because it's our biggest slam of the year!


IMPORTANT RULES FOR POETS:
SIGN UP to perform begins 6:30pm ON THE NIGHT. First in best dressed.
This is NOT a regular Ruckus Slam. As it's a heat for a national competition, standardised rules will apply this month, including a 2 minutes flat time limit and point deductions for overtime. Read the full APS 2022 rules here: australianpoetryslam.com/rules