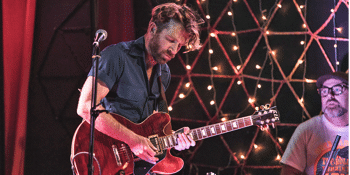 Onya Soapbox presents
Owen Campbell
FELICITY KIRCHER
Lefty's Music Hall (Brisbane, QLD)
Wednesday, 1 June 2022 7:30 pm
Owen Campbell has cemented himself as one of Australia's premier alternative blues/rock exports with 3 best-selling studio albums, 2 EPs and over 12 years of national and international touring.
He has wowed audiences in all corners of the world from the USA, Ireland, Germany, Austria, Switzerland, France, Spain, Netherlands, Japan, Hong Kong, India and even performed at the highest blues festival in the world, The Himalayan Blues Festival in Kathmandu, Nepal.
Inspired by the tempo of the ocean, Owen's sound is best described as smouldering guitar work running from bluesy riffs and soulful finger-picking to lap steel guitar solos using a shot glass slide, gritty caramel vocals and a sublime rhythm section.
This is a LIVE TOUR reflecting a new LIVE ALBUM which is a collection of Owen's favourite songs along with six new previously unreleased tracks. No overdubs, no musical edits, honest and raw.
www.owencampbellmusic.com.au
Owen is supported by: FELICITY KIRCHER - Felicity just turned 17 years old a few weeks ago and is a multi-award winning young emerging Artist who is fast establishing herself in the music industry. Not only an accomplished singer, Felicity is also a multi-instrumentalist playing Guitar, Violin & Piano. She has performed annually in Tamworth Music Festival & Gympie Muster from a very young age and has been singing at the Brisbane EKKA forever. Felicity was the only artist to recently play all 3 days at Savannah In The Round in North Qld and has recently been invited back for the 2022 lineup. Her first two singles, 'Feeding The Fire' and 'Will I Ever Be' were both added to ABC and KIX Country on high rotation.