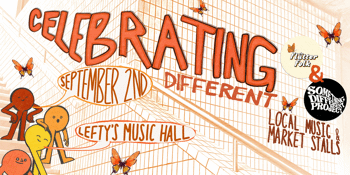 The Flutter Folk & Something Different Project
Celebrating Different
Lefty's Music Hall (Brisbane, QLD)
Friday, 2 September 2022 6:00 PM
BACK FOR ROUND 2! You legends sold us out for Celebrating Small, so here comes Celebrating Different...
Something Different Project and The Flutter Folk are bringing you a night full of the indie, rock, soft, sharp, groovy, jazzy, local, artsy, conceptual, and more from a bunch of your favourite local legends.

Noise-makers Hazel Mei, Liam Keates-Ryley, The Funny Jims and Lost Goat Found are ready to rock the stage while we've got small businesses and artists galore bringing you crystals, jewellery, clothing, art and more all night long.

We're celebrating every nook, niche and cranny of the BMS so there'll be something for you, your friend, your neighbour's grandma and your favourite work regulars, guaranteed. Let's get groovy!