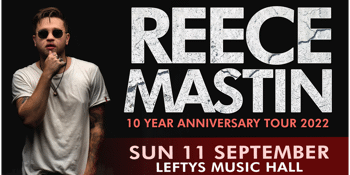 Lefty's Music Hall
Reece Mastin Live at Lefty's Music Hall
Lefty's Music Hall (Brisbane, QLD)
Sunday, 11 September 2022 6:00 pm
Reece Mastin takes on Brisbane and Lefty's Music Hall on Caxton Street for his 10-year anniversary tour! Playing all his top hits, with a rewind spin of tunes from his biggest selling albums. Reece is selling out tickets across Australia, be sure to get in early so as not to disappoint. Enjoy the vibe of Lefty's Music Hall as Reece takes centre stage.

Since capturing the nation's heart and topping the charts as a 16-year-old X Factor winner in 2011, Reece Mastin has reinvented his career from teen pop idol to rock 'n' roll young gun, counting Aussie legends like Jimmy Barnes, Diesel and The Living End's Chris Cheney amongst his supporters. With two platinum #1 albums, three consecutive chart-topping singles and a successful pop career under his belt,
Reece has spent the past 5 years proudly earning his place on the Australian rock circuit, proving time and again that raw talent and rock 'n' roll are at his core.

Featuring hits such as 'Shout it Out', 'Rockstar', 'Goodnight' and 'Shut up and Kiss Me'. With his first independent album at #1 on the iTunes rock charts in 2018, his distinctive voice has made him a household name, combined with his cool, native British rock sensibilities and true-blue Aussie rock chops, sees the band regularly featured on rock festival lineups around the country. With new music and show in the works, Australia had better get ready to see this master of reinvention do what he does best - ROCK!

GET YOUR TICKETS NOW!